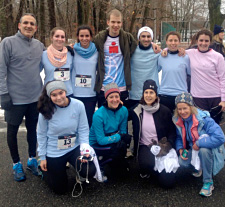 2012 Sweetie Pig Trotters
The 8th Annual Morris Township
Thanksgiving Turkey Trot
It's that time of the year again, the Turkey Trot is just around the corner. Help us support
Literacy Volunteers of Morris County
and
The Interfaith Food Pantry
. Click on the link below and register now! Last year's race was attended by close to 2,800 runners, walkers, and children. Thank you everyone in advance to those who will be participating in the fun, and for helping us raise funds for these two important organizations in our community.
Register for The Turkey Trot!
The Sweetie Pig Foundation spreads joy and happiness to people by supporting charities that share this goal.
Become a fan of The Sweetie Pig Foundation on facebook.

It Pays to Belong! Help support our fundraising efforts by joining TD Bank's Affinity Membership Program. Find out how you can help by clicking on the "Fundraising" tab.